The wearable Go Pro Hero HD 2 is all new
The most versatile video camera has just stepped it up again by adding twice as much fun in the new Go Pro Hero HD 2.  The new model comes in three models specifically designed for different environments: outdoor, motorsports and surf.  While the original HD Hero camera featured 5MP, the HD Hero 2 can shoot up to 11MP, has a lens that is twice as sharp and functions better in lower light situations.  Rapid fire photos has increased from 3 per second to 10 per second and it has LED lights on all 4 sides instead of just the front.
Entirely new features of the Go Pro Hero HD 2 include the ability to WI-FI stream video to the web and control the camera from your smartphone.  All of that and the battery life has stayed about the same at just over 2 hours per charge (and yes, the camera will function while charging).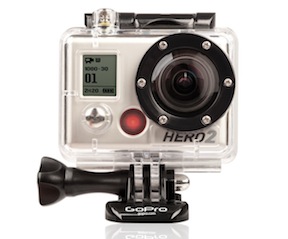 The Camera Casing
Each camera come with a nice waterproof case but the downside to this robust exterior is the basic inability to record sound using the built-in microphone. The Go Pro Hero HD 2 solution is to provide a second door that can be interchanged with the sealed version. This particular door has two large holes in it that allow sound to pass through with less obstruction. The problem is those same holes also allow moisture and dust to pass through, so you'll have to decide whether or not you want to give up full weatherproofing in exchange for better audio. But even if you do go for the former, the hard plastic shell will provide some protection for the camera from various bumps and also does a nice job protecting the camera lens.  So in the end, you will most likely keep the camera in the hard protective housing almost all the time.  In regards to audio, you might be able to work out a few other options for decent sound as there is a 3.5 external mic jack.
You will find the camera itself is the very essence of minimal engineering. Just like the previous models, there are only two buttons: a shutter button on the top and a mode button on the front. Once the camera is powered-up with a long press of the mode button you use that same button to scroll through the various shooting modes and all of the options. One nice improvement over earlier HD Hero Cameras is the buttons themselves because they now have a rubberized coating to make shooting while out of the housing a bit easier.
As we mentioned earlier, the Go Pro Hero HD 2 comes in three editions and like their previous products, the camera itself stays the same so you can use all of the various accessories already available.  And in fact, the price of each of the editions is currently the same as well.  The difference, of course, is all the mounting hardware so you'll need to take a quick inventory of all your sports equipment to determine how you plan to capture your action videos.
The Outdoor Edition
This setup is perfect for skiing, biking, kayaking, and any type of skating.  You will receive a vented helmet strap, a head strap, curved and flat adhesive mounts and a 3-way pivot arm.  While not included with this set you can also buy an nice handlebar mount.
Motorsports Edition
Great for attaching directly to a helmet while you motorbike or skydive.  With this you get a suction cup mount, J-Hook buckle, curved and flat adhesive mounts and a 3-way pivot arm.  And while not included, you can also get a roll bar mount and attach the camera to your vehicle instead of your body.
Surf Edition
This one is completely different and includes surfboard mounts, FCS plug mounts and a floaty backdoor.  As you can guess, this sticks right on the end of your surfboard.  And don't worry, the Hero HD 2 case is waterproof to 197 feet (60m) and when you are ready you can share your new sports action videos online.
Camera mounting and Accessories
As for accessories, the pivot arms are designed to let you position the Go Pro Hero HD 2 in a number of different positions, but they are a little touchy, and limited in the number of angles. You can get the camera extended, out from any helmet obstructions, changing the mounting angle if necessary. Just like before, the adhesive clips cling to anything like super glue so you better be committed to whatever you are going to try to stick to. So, if you want to film a friend you better have a little talk with them first as you may not get the cling clip off of their board, bike etc. anytime soon.
You may find that getting the camera in and out of these mounts can be difficult, especially if you don't have a lot of space, you are wearing gloves, or your fingers/hands are wet, cold and slippery which does tend to happen with a sports action camera.  Also remember that the pivot arms are screwed in place, and the little plastic screw heads can be really hard to get lose manually with those cold, wet fingers, luckily the caps have an exposed Philips-head screw, so if necessary you can get a small screwdriver in to do the job when your fingers won't work.
You will like the tie-up helmet mount pad for those lids with air vents, because that means you don't have to use up one of those four super glue-like clips.  The trade off is it is a little more likely to come undone or lose.  And don't forget once you pop the head-mount on you will never feel more self-conscious.  The good news is, it is comfortable and practical as it will get you awesome videos.
Final Thoughts
Overall, the folks at GoPro have done an excellent job with this new model but there are a couple more things we should mention.  When you start filming the beeping sound can be a little hard to hear over an engine or in other loud outdoor environment.  And when you put the whole thing together in the case along with a mount it is not exactly a feather.  While it is not necessarily annoying, you will know it is there if you say, mount it to your helmet.